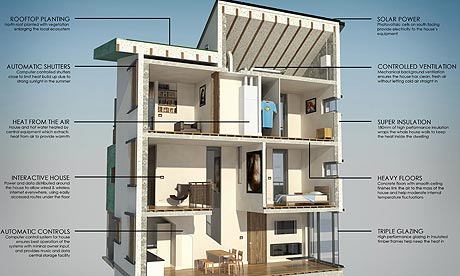 Barratt Homes has just announced its new, low-emission home, developed in conjunction with the Building Research Establishment. There are plans to build 200 at Hanham Hall, a redevelopment project just outside Bristol.
In a
press interview
, Mark Clare, Barratt's chief executive, commented that he thought the house would be successful as it had won 22,000 votes in a public competition last year: "We cannot and will not build houses that do not appeal to consumers. But they must also be affordable."
I wonder what other research they have done beyond public vote? I'd like to live in a lower emission house than I do presently. But there are several features of Barratt's proposal ,as far as one can tell from their schematic, don't appeal to me: from the (apparently) permanently sealed triple glazing (however fine-tuned the house's ventilation system, there will be times when people just want to open their windows); to the central computer in a cupboard under the stairs (presumably this device will need some programming, so why repeat the mistakes of old electricity meters etc. by putting it in an inaccessible place? I assume it's pretty small, so an accessible, no-fuss box would do); and it's hard to tell from the current illustration, but window sizes look small too. I also wonder whether Barratt will be planting sustainable gardens to accompany their houses. No mention of that in any of the press reports I've read.
So one to watch.